I wish it would be possible to convey how beautiful the Huachuma medicine is. But this would be like trying to tell you about the aromatic sent of its flower. You have to smell it to know. You have to take it yourself to experience.
​
- Sergey Baranov
Lucas Deloffre - My Stay at Huachuma Wasi
---
What an exceptional experience! Sergey has created a remarkably warm, caring and loving environment from where to explore the incredible healing energy of the Huachuma medicine. The house is very comfortable, divided into separate studios each with it's own kitchen. The garden is a lovely space where Sergey grows the medicine. There are beautiful cactus everywhere! His wonderful wife Mercedes and daughter Mia make you feel right at home, I could not have asked for a more rewarding stay. Above and beyond providing a nurturing space to work with the cactus Sergey is also very funny and fun to spend time with. He often had me in stitches! The ceremonies begin in a beautiful ceremonial space and then off we go into various natural settings near Calca , all quite stunning. After a day of transformational work gently guided by Sergey, back to Huachuma Wasi where we all make dinner together and share the experiences. This place is the real deal. You will not regret coming here! I have returned to my home in Southern California recharged and on a path of healing and mending old wounds. This was precisely the kind of work I needed in just the right place with the right company. I will be back and hopefully sooner than later! ​ Thank you Sergey!! And thank you Grandfather Huachuma!! ​ - Lucas Deloffre
---
Sarah Ben-Simon - Huachuma with Sergey Baranov
---
After years of searching for help to deal with my anger, relationship issues, guilt, shame, trauma and fears, I finally found healing with Sergey Baranov. ​ I chose to work with Sergey because I felt safe after meeting him and his beautiful family. ​ Sergey doesn't play the role of some celestine guru... he is a fellow human, keeping it real as a person on his own journey helping others along the way. ​ Sergey inspired me to create a new, better, healthier life story. He achieved this through his medicine, his wisdom, encouraging and facilitating a connection to nature and supporting my personal healing process. ​ He reminded me about my power and responsibility to paint my life with colours that I choose and indeed, I discovered a wonderful artist within myself! ​ During my time at Huachuma Wasi, there was always beautiful people in the group who made me feel honoured, respected and loved. From that point it was easy for me to look at parts of myself that my ego was protecting me from, like things that I was denying to myself. Things that I had to look at in order to resolve through understanding. ​ Sergeys gentle humour and light heartedness made it easy for me to look into the darkest of places and shine a light there. At the end of the day, it was my responsibility to look at my problems and work on them but thanks to the caring support from Sergey and the Huachuma Wasi family, I made so much progress in such a short time and I enjoyed the journey too! ​ Forever with gratitude, - Sarah Ben-Simon
---
Cameron Taylor - Reflection on the San Pedro Retreat
---
I would like to open a window into my journey with Sergey Baranov and our dearest Grandfather spirit San Pedro, also known as Huachuma. ​ A dear friend of mine mentioned he was going to see Sergey to do some deep physical, metaphysical cleansing and spiritual work. He was due to leave Australia in one week when he arrived for a visit at my place to say farewell. That was the moment when spirit told me I was going too! The next day my tickets were booked and 6 days later I found myself sitting in front of Sergeys sacred altar with my friend, as well as some new friends, who were also staying at the cactus house. Gracias gran misterio! ​ I knew why I was there. To spend a month with Sergey and the grandfather to do my own personal work on a level that my own work in Australia doesn't always allow. To be in the homelands of this sacred medicine, receiving the frequencies of the Andean Apus (mountains) of the sacred valley. Ahh glory be!! The magnificence of Peru and in my opinion the most sacred plant spirit I have ever known (no offence to all you other marvelous, miraculous healing plants out there that I know and love). ​ The grandfather, with Sergeys ever loving grace (gracias hermano), humbled me to a new level of understanding. An understanding in regards to what it is, what it means to be me, to be human, the human experience, the spiritual realms, the holographic realms and the world that surrounds me, all of us. ​ Sergey works so comfortably and confidently with the frequency of the grandfathers ancient wisdom. Demoleculising the belief systems that do not serve us, the systems we have created as a race, collectively over time. Defragging the mind and learning to come to peace with the mind and honouring that miraculous part of us that wishes to serve us so well when in harmony and balance with the heart and spirit. Deepening our presence with one another so we may see each other for who we really are. Eternal spirits of light and love. A true gift. Sergey, and his deep connection with the medicine, so lovingly and gracefully holds us as we transmute the shadow aspects of the self, past trauma and pain being realized and released, ultimately strengthening us as we embody more light and a higher frequency within and without. Helping us to align and refine our prayer for life, how we want to feel and be treated and how we treat others. Awakening us to the power of intention and how, as an individual and a collective, we may shift the human consciousness on so many multi dimensional levels. Sergey's humble, down to earth, caring and compassionate ways of navigating the journey for the group and the individual is amazing. Sergey is passionate about his work, his service to the grandfather, pachamama and the human race is inspirational to me and has had a profound positive effect on my own service to humanity. I am eternally grateful. ​ The cactus house where fellow journeyers stay is lovely, feeling more like a home than a house. Warm and cozy, bright and sunny, peaceful surrounds and majestic views forever. The perfect place to integrate the teachings and healing that comes through on the path to freedom and enlightenment. ​ If I had one sentence to offer others seeking deep healing, more clarity on the "big " questions, or simply searching for a pure connection to the spirit and the heart, I would say unto thee…. "Go see Sergey, drink more medicine, read his book PATH".
Big hugs Sergey, love your light work man!! ​ - Cam
---
Hum Wilkinson - Soul Healing with the Sacred San Pedro Cactus
---
I recently spent six weeks working with Sergey and his beautiful medicine.
I had contacted Sergey from Australia after drinking Ayahuasca that had been brewed with Toe (a dangerous power plant from the Amazon). I was suffering memory loss, confusion and felt like I was lost in a vortex of darkness, my creativity had disappeared and I was in desperate need of help. ​ Sergey was very honest with me saying that I may find healing through Huachuma (San Pedro) but that he himself did not perform miracles. Something about this calm honest statement eased my worried mind and I knew that I had found somebody I could trust with my healing. ​ I traveled to Peru with a dear friend who worked with San Pedro in Australia and was hoping to expand his knowledge of this sacred medicine. ​ We arrived in Sacred Valley in the evening and after settling into the Cactus house meeting the other guests and getting a good nights sleep, we were up early the next morning and off to work with Sergey. ​ What followed in the next six weeks was the adventure of my life time! ​ I honestly believe that the healing I received through Sergey's medicine can be described as miracles – not only do I feel completely clean of Toe but I also have a vision for my future. I feel strong and clear and my creativity has not only returned but is reaching new levels. Surrounded by the magnificent mountains of the Andes and feeling the gentle power of the sacred cactus medicine I experienced love and a profound joy that I will keep with me for the rest of my life!! ​ To witness the transformations and healing in the other participants during our work was also a joy to behold! ​ Drinking the medicine and living at the Cactus house was an all inclusive healing experience. With new found friends we would cook together, make music and talk and laugh into the evening. ​ The gratitude I feel for Sergey and his divine medicine is beyond words. I highly, highly recommend this work to all those who are serious about their healing.. ​ Muchos gracias Sergey, ​ - Hum Wilkinson
---
Peter Darren - San Pedro Journeys with Sergey Baranov
---
My name is Peter and I would like to start this story from how I came to meeting Sergey. I went to Iquitos in November 15. My partner and I went to a ayahuasca retreat for 4 days and had a powerful experience which left me a little confused. We drank twice and had two very different experiences. We decided to go back again in February to a different retreat for 7 days. We stuck to the strict diet and arrived there on Feb 1st. The first ceremony we done was very over powering and a bit scary for me and I only done the one. We also done the Ajo sacha diet which lasted 3 nights and was very cleansing. I felt quite disappointed that i didn't do the 3 ayahuasca ceremonies but we stayed for the week and still had a strong experience. While we were there we got speaking to the owner and other students about San Pedro and it sounded like it may be better for us as a couple. The retreat we stayed at had a rule that separated couples, and as much as I understand it is an individual journey my wife and I have been together for 30 years and wanted to be there for each other if needed, and that caused some waves when I was struggling in the first ceremony. Anyway the day before the retreat ended the owner kindly recommended Sergey to us and we left for Cusco. We arrived there on the 10th and Sergey picked us up and took us to stay at his home with his lovely family. We arrived just in time because there was a 2 day strike starting on the 11th. Sergey's wife made us a very nice dinner in the evening and they made us feel very welcome. We had been on the Ayahuasca diet for over 3 weeks so it was so nice to eat a home cooked meal. The next morning we was up nice and early ready for our first ceremony. Sergey could see I was a bit anxious and really helped me relax and feel more confident. I started with three quarters of a cup and then we headed off to the river behind his house. We found a nice spot and within an hour it started working. It made me feel so alive and safe and no fear whatsoever. We had a beautiful day and then headed home. The medicine lasted right through to 12 o'clock that night and we had a lovely dinner and sat around the fire talking. I slept very well that night woke up in the morning ready to go again. I drank a full cup and we headed off to the sacred rock. It is a beautiful space there and I had an amazing day again. I took more medicine that day feeling love and gratitude. What I love about this medicine is that I feel very grounded and present. I would like to add that the Ayahuasca is done in the dark and for me was more out of the body than in! The San Pedro is done in the daytime and such an integrative medicine in all aspects. Anyway we had to leave to go back on the 14th so thanked Sergey for his time, love and patience and told him we would be back soon with our sons. We arrived back there on April 2nd with our sons who are 22, 23,and 24 years old. This time we rented Sergeys cactus house from and were staying for two weeks. Again Sergey picked us up from airport and took us to eat with his family and then home. We woke up next morning and went to a beautiful river about 5 minutes drive away. We all drank that day and Sergey was very caring and sensible in the way he introduced our sons to the medicine. I have to say that I came with my sons to Sergey because I had and have 100 percent faith and trust in how he conducts ceremonies. All of my boys took to the medicine on the first day and were very thankful to be having this experience. We are a close family anyway, but the medicine helped us open up more and appreciate each other and life so much more. We had 6 ceremonies over the 12 days we were there and they went deeper each time. Also on the night of ceremonies Sergeys beautiful wife and her mother cooked for us. It was so nice to get home and put the fire on and have a nice dinner with everyone. Like I said earlier so integrative. The other thing that's so nice with this medicine is that there is no come down the next day, just presence and clarity. My experience with ayahuasca was also life changing but quite brutal and kind of rips the ego out of you where as San Pedro is very kind and loving and I can see why its called the grandfather. I will certainly be going back this year maybe for a longer period as you can go really deep with this medicine. It has certainly changed my families and my view on life and would recommend Sergey to anyone who is looking to change their lives. Sergey has a very relaxed and structured way of helping you and has a wealth of knowledge on world issues and the problems that face us as human beings in the 21st century. Thank you Sergey and we will be back to see you soon. ​ - Peter Darren
---
Frederic Mayvaert - San Pedro Experience with Sergey
---
Being very much interested in the Shamanic path and ancient wisdom, I joined an expedition in Peru led by Dr. Alberto Villoldo. Alberto writes and speaks eloquently about the wisdom teachings of the master shamans of the Andes and the Amazon, anyone not familiar with the subject can read one of his books as an introduction. So I stayed in a beautiful lodge in the Sacred Valley near Cusco, met great people and made new friends, visited temples and archeological sites and participated in colorful rituals. These rituals are not superstition nor magical cure but like 'planting seeds'. In order to grow those seeds and activate our own power we also have to cultivate wisdom and skills. ​ This wisdom is not an intellectual understanding that we can acquire from reading books, doing rituals, applying healing modalities or doing 'spiritual practices'. I am not saying that intellectual maps and 'techniques' are not useful. I am just saying that they are invitations, pointers and supportive tools. Pointers are not to be believed, they invite us to look for ourselves. Those familiar with 'direct or no-path' traditions such as Yoga, Advaita Vedanta, Daoism, Zen or Dzogchen will have heard that there is really nothing 'you' can do to get IT (IT being truth, freedom, peace, bliss, awakening or liberation). Let alone that there is a real 'you' to get any real 'thing' in the first place. It is implied that we already are what we're looking for. Their advice is to RELAX. So how can we relax into 'non-doing' and recognize or remember this? ​ Nature gracefully provides us with powerful tools to help us heal and shift our perception: sacred plants, like Ayahuasca and Iboga. No wonder the use of sacred plant medicine has been savagely suppressed and is still on a forbidden list in most countries, it heals us and grants 'gnosis' or direct knowledge. Bad news for the powers in place and their big business, they would lose control. Luckily, the native shamans have been able to preserve this ancestral knowledge. One of Peru's best kept secrets is the San Pedro (or Huachuma) cactus. It is one of the four most sacred plants of Peru, along with Tobacco, Ayahuasca and Coca. It is related to Peyote used in Mexico and North America. The name San Pedro comes from the Christian saint who holds the keys to the gates of Heaven. I realize now how well chosen that name is. ​ During this trip some of my fellow travelers discussed the amazing virtues of San Pedro and that aroused my curiosity. One day, after visiting Machu Picchu, I visited a bookstore and my attention was immediately drawn to a book sitting high on a shelf. I had to stand on my toes to reach it, could not preview the book as I usually do because it was wrapped in plastic. I noticed that it written by a Russian, I do like Russians because generally they are authentic and street smart, I thought that it would be quite exotic and interesting to have a Russian-born shaman cast some light on the mystery and the mystic side of Peru. I read the book in one go and found out that its author was living near my hotel. We met on the eve of winter solstice amid fireworks and a dancing crowd and agreed to meet the next day to 'taste' the sacred medicine. ​ I was new to San Pedro but not to sacred plants. Three previous journeys with Ayahuasca and Iboga had taken me to heaven, the ordinary world and hell and convinced me beyond any doubt of their sacredness, their mind-blowing power and uniquely tailored gifts. Sergey propped our small group into his old car and drove us to a sacred place. We drank the bitter medicine and each one of us searched for a solitary spot under the trees. I was overlooking the temple, the surrounding fields and the mountains. I felt nothing during the first hour, did not feel sick, and then gradually the magic kicked in. I stepped out of time, perception, the heart and every cell in the body opened up wide and everything came to a radiant and vibrant aliveness, life was pulsing through my veins and it was shown or seen that the great mystery of life is one with or not separate from Nature and what we are in essence, our very own magical and mysterious nature. I will not bore you further with words that can never accurately capture this kind of experience. ​ I would like to invite you to give yourself that same gift and share this initiatory experience if you hear that call and feel ready for this. Don't take this lightly. Read about that stuff and come well prepared. Read Alan Watts, Aldous Huxley's "Doors of Perception" or whatever suits your path. Painful stuff may show up, not to punish you but because it wants to be held or met. What each one of those plant ceremonies meant to me was the equivalent of 10 years of reading and one year of meditating or therapy. A cellular 'knowing' occurs during these initiations that goes way beyond the mental/intellectual level. So if you happen to travel to Peru and feel ready for some real soul or spirit food after having read the menu and studied all the maps we have at our disposal, contact Sergey. One more reason is that what he charges is really fair and is also needed and welcome to support his beautiful little family. I want to express my gratitude to Sergey, keep up the good work man. I am back home since one week and the cells in my body are still dancing, the 'after-party' won't stop. ​ On a final note, I would like to stress the importance of integrating what one has seen during such experiences in daily life. It all boils down to what some would call the 'Alchemy of Presence': relax, breathe, feel and remain present whatever you experience. Mind will never get IT, IT gets the mind. And don't be afraid that you will somehow lose your mind during such a trip, on the contrary, you keep all your mental faculties and you can still think, talk and walk. Your perception shifts and you will discover that you are much more than the ego-tunnel and your limited self-stories. ​ Heartfelt regards and godspeed, ​ - Frederic
---
Martin Stevens - Reflections on Huachuma Work Sergey Baranov
---
I first met Sergey in December 2005 at a jungle lodge outside the city of Iquitos where we had gone to participate in Ayahuasca ceremonies with a highly respected 'banco' curandero of the vegetalista mestizo tradition. Later we flew to Cusco and had a final dinner together before I left to attend a Spanish language school while he continued as a participant in a sacred medicine pilgrimage to various sacred sites in different parts of Peru. ​ At the time Sergey was amazed to know that I was starting a whole new life in a new country using a new language. Little did he know that soon he would be embarking on the same leap of courage into a new life beginning in the Sacred Valley and that he would be called to dive deep into the ancient world of Peruvian shamanism by becoming a huachumero spiritually aligned with the Chavin temple in Ancash.
Since that time I have moved away from Cusco and the Sacred Valley up into the northern jungle area of Peru, but up until this change of location I participated in many sacred medicine ceremonies offered by Sergey and drank his carefully prepared huachuma medicine many times over several years when I lived in the Sacred Valley. ​ I very much appreciate Sergey's sincerity and integrity on the path of sacred plant medicine and also the careful way he introduces new people into the world of the sacred plants and the expanded awareness they open up. I do feel comfortable recommending Sergey's ceremonies to anyone looking for an entranceway into the deep and ancient spirituality of Peru that lies unseen to the great majority of visitors to Peru. ​ As for what Sergey's medicine is like: You can expect to be out in a natural setting in or around the Sacred Valley, perhaps at an ancient ceremonial site or beside a river. As time passes during the day and as the medicine takes effect, you will feel your consciousness expand and your thoughts will become more lucid until you find yourself awakening to the presence of ancient power, ancient clarity, a feeling of connection to the landscape. Ineffable beauty and strength, divine intelligence can be perceived. It is truly a wondrous thing and so refreshing to your tired spirit. ​ Now, whenever I get an opportunity to return to Calca I always come and spend time with Sergey. It is always wonderful to reconnect with him and his wonderful family and to drink the sacred huachuma once again. ​ - Martin Stevens
---
Tomas Rehacek - Seeking the Divine Spirit: Shamanic Retreat in the Sacred Valley of the Incas with Sergey Baranov
---
I first stumbled upon Sergey's name on Graham Hancock's website, which features a monthly book review. In that particular month it was Sergey's "Path" which was being discussed on the public forum. Driven by curiosity I opened the link and read two chapters from Sergey's book, which constituted an introduction to the book and its subject for the purposes of the review. At that time, I was in the midst of a search for a shamanic retreat in Peru. Attracted to the spiritual experience, I was dragged towards by reading and listening to people like Terence McKenna, Graham Hancock, Joe Rogan and others, I decided to contact Sergey and find out if I could work with him. A positive response came back almost immediately. The offered retreat was certainly interesting and reasonably priced, although for me was still expensive so Sergey and I began to design a simpler retreat which would allow for the basic work with the sacred medicine called Huachuma and left enough space for hiking and visiting some of the archaeological sites in the area. ​ It was still March when I booked my plane ticket and started to draw plans for a 3-week retreat in the Sacred Valley of Incas. Sergey was very helpful in the planning phase and got me a room in Calca, a town located in the canter of the Sacred Valley. A little over 3 months later I was standing in front of the airport in Cuzco where I was picked up by Sergey. From the beginning Sergey struck me as an honest guy and I never had a problem with trusting him. Even at the very beginning of our email exchange I somehow knew he could be trusted and transferred to him some $600 upfront with confidence. Throughout my stay, Sergey made sure that I had everything I needed. He took me around so that I could get a sense of orientation and showed me the local market, the bus terminal, etc. He was also very helpful when it came to organization of some of my trips! ​ After the first few days of getting used to the altitude, I managed to shake off the jet lag and Sergey and I started the work. I started to cover some of the theoretical ground by reading Sergey's book "Path". It was long planned, ever since I came across it on Graham's site. The book was a valuable guide for me as it intertwines a recollection of the events which paved Sergey's journey and eventually brought him to Peru and his search for the true spiritual experience. Sergey creates a nexus of very important topics, such as sacred archeology, the use of shamanic plants and their effects, religion, politics and more. Along with the actual work with the plants, the book was certainly a very good companion and a source of wisdom and information I was not privy to before. When the time came for the first ceremony, I felt ready. Despite of not having prior experience with serious shamanic plant, I was at peace. At this point, Sergey's reputation was validated for me and firmly established. Indeed, there was no reason to be afraid. The first ceremony with Sergey was a gentle one. Just like the first date which is meant to get to know each other. The medicine connected me with the Earth and nature and showed me my place in it. I didn't pose any serious question to the medicine the very first time however, I still gained some insights into several situations in my life as well as my very own existence in the universe. Sergey's guidance was just right. He was around to talk to and periodically checked on everyone but at the same time he let the experience unfold without too much of interaction. A beautiful day by the river not far from Calca was magical and left me full of happiness and joy. ​ For the coming ceremonies Sergey prepared a stronger medicine which took me deeper into the spiritual realm of love and care but also revealed a lot of wisdom to me. Particularly the 3rd ceremony turned out to be more than a success as I maintained a strong connection with the divine spirit and received a powerful lesson I came for. The following and the last ceremony was a real blast which pinned me to the ground for a couple of hours and once again enlightened me about some crucial spiritual concepts, such as "what constitutes a real power", "the balance between the feminine and masculine", "the value of true friendship", "the importance of selfless caring, loving and sharing" and much more. During this time Sergey stuck around as a much needed mentor and a grounding element. ​ If I were to describe the Huachuma experience, I'd say "one lives the words". What it means is that the words are felt rather than cognitively analysed and processed while attributing a certain meaning to them, usually associated with a previous experience. Frequently, I entered a state of mind wherein I felt the emotional meaning of words. Words were not simple mouth noises anymore. They were feelings and emotions. Many of my own problems and issues were traced back to my own emotional imbalance, from which these issues stem. Sergey and I did 4 ceremonies over the course of 3 weeks and I must say that Sergey did a great job of selecting the ceremonial sites around Calca, the last one of which was not far from a mesmerizing archaeological site called Urco. All in all, working with Sergey and Huachuma proved to be the right first step, as the medicine isn't overly demanding both, physically and mentally. At the beginning of my journey with Huachuma, I was told not to expect a trip but a relationship. This proved to be a very accurate description of what Huachuma does. It's a grounding and connecting experience with mother Earth. Something that is always there although it's been suppressed and pushed in the background by the cultural climate we live in. The interaction with all the living things around. Under the influence of the medicine, this connection is amplified at the expense of the cultural noise which is toned down and/or erased completely. ​ Following my work with Huachuma, I had one more request which I posed to Sergey in a hope he could help me to make it happen. Long before I even heard about Huachuma, I had been researching Ayahuasca (and DMT in general) and became acquainted with some of the mind-blowing accounts of the experience from people who had taken it. Leaving Peru without at least one ayahuasca ceremony would make it feel somehow incomplete. Fortunately, Sergey's contacts include a local ayahuascero, who was just about to leave for the jungle but promised to hold a private ceremony in Sergey's maloca at his cactus house. Gearing up towards that, I grew a bit anxious and, more importantly, very respectful towards the plant. The main active substance in ayahuasca, called DMT is a powerful psychedelic and cannot be taken lightly. I began my diet and 6 days later Sergey picked me up. We had about one hour before the ayahuascero was going to join us and as always my chat with Sergey grounded me and soothed my slight sense of anxiety. During my discussions with both Sergey and the ayahuascero, it was revealed that my work with Huachuma presented a much needed groundwork for further exploration of the psychedelic hyperspace. This was surely a good news! ​ Shortly after Sergey left, we entered his maloca, sat down and began to chat. I learned about my ayahuascero's history of substance abuse, including cocaine and crack. Fortunately for him, mere 6 months of intensive work with ayahuasca helped him to get rid of many years of addiction. And indeed ayahuasca is often used to help people rid themselves not only of mental and psychological problems but also various addictions. Roughly an hour of chitchat concluded with the first cup of a milder brew, followed by the second cup an hour later and finally another half-cup 30 minutes after that. In both cases, it was a more potent version and the effects did not take long to kick in. While lying on my back, I noticed changing patterns on the maloca's ceiling. It looked like a kaleidoscope and I suspected I was in for a wild ride. Suddenly a bunch of flickering lights appeared. They looked like their source resided in another dimension and their purpose was to locate me in my body on the ground. Upon succeeding to do so, my spirit was lifted from the body and I found myself being medically examined by a certain entity. Their focus on one of the organs in my chest puzzled me and sadly my numerous inquiries into the nature of the examination were left unanswered. Nonetheless, shortly I was released and promptly taken to the hyperspace, which is utterly difficult to describe in words. In the words of Terence McKenna, I was taken on a journey inside the Arabian labyrinth – profusely complex, bright and colourful places, which rose around me only to be flattened and replaced with another salve of awe the minute later. Time dissolved into eternity as I was guided through the world of indefinability. My body froze even though I lay under a pile of blankets. At certain point, I was offered to get on a space ship and travel to what the entities introduced as "their place". What now appears as a tempting and tantalizing prospect felt utterly frightening at that very moment. I feared for I felt I might not have come back from there. I declined the offer and drop down to my body for a reality check. Later on, I asked the entity for a gentler journey which was granted to me and lasted another 2.5-3 hours before I fell asleep around 2am. ​ Waking up in the morning with my mind intact felt real good! My spiritual retreat was at its end and I was left with 4 pages of divine wisdom from grandfather Huachuma (San Pedro), out-of-this-world ayahuasca experience and a lot of feelings and emotions to process. I left Peru with a heavy heart, knowing it won't be anytime soon before I come back. Having to return to the western civilization and the suicidal, carcinogenic culture of this world brought about a mind-taxing experience. I am certainly more connected and more centered with my head set straight. A lot of bullshit that used to clutter my mind was tossed away during my retreat and my focus was sharpened. At the same time, the plant medicine helped me to identify some of the open wounds which I thought were healed. I was also educated about the importance of selfless and loving behavior. On multiple occasions, love was revealed to me as the primary emotion and a guiding force in the universe. My sensory perception has intensified and so has the connection with the living, natural world. It is now up to me to assess my life according to the lessons learned in Peru and apply the necessary changes, which are mostly of emotional and spiritual nature. I plan on living more from the heart and continue doing my best to protect and care for our mother Earth. At this time and age, nothing is more important. ​ - Tomas Rehacek
---
Leo - Huachuma Experience in the Sacred Valley, Peru
---
The purpose of my trip to South America was to explore myself, learn more about myself, and somehow address my current existential crisis. Being lost in my understanding of life and reality, confused by the current human cultural narrative governing our lives, and seeking a purpose and an understanding of my true identity and potential contribution to society, I decided to seek the help of like minded people, spiritual mentors and plant medicines. ​ My time in the sacred valley of Peru will, without a doubt, stay in my mind as a strong memory forever. After working with Ayahuasca, the shamanic plant medicine, brewed in the jungle of Peru, I had already lived a very intense introspective experience but there was much to still resolve and understand, and heal. ​ I was extremely lucky to meet wonderful people who led me to meet Sergey, our companion and host for our experiences with Huachuma (San Pedro), the cactus plant medicine. ​ With two ceremonies within a week, I have explored amazing dimensions of my own mind, beliefs and of course nature and the world. Supported by Sergey and the other amazing individuals I was sharing my experience with, I was able to reflect and receive the amazing healing this plant can provide.
Sergey led us to amazing sights of the Sacred Valley, where we sat and enjoyed in awe the nature around us, whilst all living our individual healing from Huachuma. ​ The ceremonies were all well organised, well mentored to set intentions, enjoy the process of taking the medicine, and later rest in nature. Sergey would come to us individually to talk to us, coach us, and help us think through our experiences, and eventually lead us to the depth of our minds, hearts and souls. Later, Sergey would take us on walks across the beautiful nature surrounding us, and engage with one another to share our experiences, and help one another. ​ Sergey is well caring, experienced and committed to this healing with Huachuma. I would recommend this experience to anyone seeking reflection, awe, self-exploration, and true enjoyment of nature in full spiritual awareness. ​ - Leo
---
Shawna Boyce - Finding the Healer Within
---
In October 2013, I had the opportunity to check off a box on my bucket list. I had the good fortune to take a journey to Peru. The intention of the tour was to work with several Shamans to learn and experience their native medicines. As an acupuncturist and energy medicine practitioner this was a dream come true.
We started our experience in the rain forest where we met our first Shaman. Here we would be learning about Ayahuasca, the vine of the dead. We spent 5 days in the jungle and did 3 ceremonies. It was an interesting experience but one I found very difficult both physically and emotionally.
Once we left the rainforest we headed for Cusco and the Andes to meet our next Shaman. Leaving Cusco we drove to Ollantaytambo. The next morning we had had a light breakfast of fruit and tea and headed out early to our location in the foothills of the Andes to meet with Sergey Baranov. We were to spend 3 days doing ceremonies with his medicine. Sergey is not your typical Peruvian Shaman. Not being born into the medicine like other Shamans we met during our time in Peru, Sergey was called by the medicine. His life mission brought him from Russia/Israel/United States to Peru to work with the sacred medicine Huachuma, a.k.a San Pedro.
Our ceremony started with Sergey setting up his altar and blessing the medicine. We each came to him individually and he checked in with us to see how we were feeling about taking the medicine and based the amount accordingly. We drank his dark brew and then he blew smoke over us. Afterwards Sergey served us some coca tea and a piece of chocolate. Although our first day was forecast to be cold and rainy, it ended up being beautiful. The view of the Andes was awesome. There was something special about these mountains. I truly felt I was in a sacred space.
After everyone had taken their turn, Sergey spoke of his journey to the medicine and some of his experiences. As the medicine started to move within me I had this urge to get away from those around me and walked off to find a nice shady area by a big tree. As I sat, my mind began to wander towards my family. One of my intentions for the trip was to find some direction in my life. During the afternoon I wept until an amazing vision came to me through the medicine. In that moment, I felt nothing but unconditional love and had this knowing that this was the message I had been seeking; ​ "IT'S TIME TO TAKE BACK YOUR POWER!" ​ The rest of the afternoon I spent lying under the tree in a maze of color unlike any I had witnessed before. I felt I was flying and truly wanted to stay in this sensation of love and beauty. However, we needed to catch a train through the Sacred Valley that evening, so the beauty then continued on the train… it was the most amazing journey! Being in the medicine and seeing the magnificence of the Andes as we travelled through the valley, I was in awe. ​ The ceremony the next day with Sergey took place in Machu Picchu. It was a completely different experience from the day before. It was still beautiful especially being in such a powerful, sacred space. With all the people around, however, it was a difficult to relax into the medicine. It ended up being a playful day for our whole group with lots of joy and laughter.
Our last ceremony was back in a rain forest environment. We walked to a waterfall after taking the medicine. I felt the waterfall so powerfully I couldn't stay close so went to sit in a stone circle nearby. The medicine took me on an incredible journey of visions and colors once again. I found relaxing into the medicine on my own gave me the best experiences.
After returning from Peru I had a difficult time going back to my daily routine and interacting with people was difficult. I wasn't the same person that had left 12 days ago. What I soon discovered was that much of the experience and teachings of the medicine do not occur in that moment. Within four months after my return I opened my own business. I mended my relationship. I grew in ways that I never expected to.
I have done six ceremonies with Sergey and Huachuma since 2013 and each time is unlike the last. Sergey is very clear that Huachuma is the teacher, not him. What he offers is guidance; an intuitive ability to know when to assist with the journey and when to give space to those who are able to find their own way through it. He knows through his own intimate relationship and respect for the plant that whatever the medicine needs you to see, experience or feel is what comes. The message that is given is up to you to interpret. It is a gift given by the Grandfather as our healing must come from within.
Releasing all expectation and enjoying the journey is what seemed to give me the best experience. Sometimes it is just the playfulness of the medicine that brings joy and love to your life, sometimes the medicine teaches you some hard lessons and releases trapped emotions. But every time it shows the beauty of the world around us. My heart has been opened and my connection to nature enhanced so much more because of my work with this sacred plant.
I am so very grateful that I had the opportunity to meet Sergey and be introduced to the healing gift of Huachuma. If you are a spiritual seeker looking for a gentle way to get in touch with the wisdom of nature's healing, this is definitely the right PATH. Love and many blessings,
- Shawna
---
Dianna Love - Magical Huachuma Journeys with Sergey Baranov
---
Having lived in Peru for several years, I have had many experiences with plant medicines during my time there. I am back living in the United States and still learning from all my many relationships and life lessons I had during those years. ​ In July this year, 2015, I returned to Peru to find deeper insights, wisdom and find closure with some of my past experiences there.I felt drawn to work with Sergey since we have some common friends who have done work with him and so I trusted him initially on that basis. This was important to me since I was a single woman traveling alone. As soon as I met Sergey and his family in person I felt confident I had made a good decision. His warmth, compassion, and confidence are very comforting and reassuring. Upon doing the first ceremony I KNEW I'd been led to the right teacher, the right time, the right medicine. It was profound for me beyond words. ​ I completed three ceremonies with Sergey and Huachuma ( San Pedro )during my stay. Each one built upon the other and graciously offered me more information, more Light, more opening and expansiveness. It has been easy to integrate this up-leveled vibration into my daily life here in the States for the experiences I had were so grounding and authentic. My life & reality is viewed from a new (higher) perspective. ​ If you feel called to work with the healing and teaching plant, Huachuma, I cannot recommend Sergey highly enough. He is knowledgeable, safe and his medicine is pure Magic. I know from personal experience. ​ If anyone reading this wants to contact me personally, my email is: redlotuslady@live.com ​ - Diana Love
---
Deslee Mihalyi Fleming - An Unforgettable Journey Within: The Teaching from the Sacred Cactus
---
My fascination with the physical body started in childhood as an athlete, which led to a study of Kinesiology Science in university. I was driven to understand how the body becomes injured and then repairs itself. As my knowledge of the body systems deepened, I realized that there was something missing in my studies that could be felt, but not measured well with the scientific tools we had available. I then moved to the study of Traditional Chinese Medicine, where the concept of 'Qi' or Life force and 'Shen' or Spirit play a vital role in one's ability to remain in a state of health and vitality. This has led me on a journey of personal discovery and healing. In 2009 I journeyed to Peru to undergo deep spiritual growth and continue my training for the therapeutic work that I do. While living in the Sacred Valley, I had the pleasure of meeting Sergey. Soon after our meeting, there was extensive flooding in the Valley, leaving many homeless, injured or dead. At that time I felt an intense calling to work with the Sacred Cactus San Pedro, also known as Huachuma. Up until that point, my work was primarily with the Sacred Vine and some other Teacher plants and herbs. I began regular sessions with Sergey, where we had the chance to deepen in our work with the plant as well as build a friendship out of shared philosophies and similar histories in our search for something real spiritually. This period of working with Sergey brought to the surface issues I was carrying inside from childhood around the guilt and shame that is sometimes associated with femininity. ​ I had the chance to process personal traumas, both deep and superficial, including a previous pregnancy. Sergey provided a strong place on which I could lean on to do my healing from. ​ Following this personal work, I continued with the Sacred Cactus into the realms of my professional and service work. Up until this point, I was working from a very detached position and not very hands-on with my clients. What this sacred plant taught me, I could not have learned from a book or human teacher. The Sacred Cactus connected within me, my separate knowledge of Western anatomy and physiology, and Eastern energetic systems into a coherent whole. Through this work, the Grandfather also opened up ways within my body that allowed me to 'hear' or sense with my hands, where traumas are rooted within one's body as well as how to track the pattern of trauma as it is stored within one's cellular memory. I now work on clients with my hands, where the levels of physical, emotional, energetic and spiritual are connected systematically. I would not have been able to access this level of healing for myself or the work that I do, had it not been for the permission of this ancient plant -Teacher and the navigation of this spiritual medicine from Sergey. ​ - Deslee
---
Nathan Ehrlich - My Brief Time Under the Sun
---
It was a series of strange coincidences that lead me to Sergey Baranov, the author of the book 'PATH'. ​ These were strange synchronistic circumstances that would be too epic and unbelievable to detail here and now. But I will say this: I thought I was going to meet a man who would not be able to communicate with me as I don't know Spanish, who probably wouldn't understand me, who would simply administer some cactus drugs, and then move on with his life as I would mine. However, when I came to Calca, and stepped off the bus, the man waiting there for me, most generously and patiently, spoke perfect English. Not only that, he even spoke Hebrew, and was just like me, born a Jewish man. It just struck me as amazing that having come from somewhat similar backgrounds we both ended up in Peru, him as a guide, and me as a seeker, and that the universe arranged it as such. ​ Unfortunately Sergey said he was busy, but he recognized this miraculous uniting that had occurred and rearranged his schedule (he was supposed to move houses with his family) so that he could hold a ceremony for myself and my spirit companion, Kelly, from Australia, also an amazing individual. What was so powerful about Sergey is how brutally grounded he is, and yet so gentle and loving that there is such an incredible sense of comfort and safety when you are with him. You know right away as soon as you see him that this man will not lead you astray. We had just one ceremony together and it was a powerful one. ​ I had come to Sergey after 5 incredibly powerful ayahuasca ceremonies, easily among the most powerful experiences I have ever had, but I was a San Pedro virgin. This was my first experience with this sacred plant. And what I received in this encounter with Sergey as my guide was a very powerful teaching. It was Calca's winter at the time, meaning the only moments of the day that one could be outside without many layers was when the sun was up. Sergey cautioned us about this. He said at the beginning of the ceremony that the sun will come on strong soon and so will the medicine. You will have these moments, this time, to be with yourself in the medicine, and then that's it, the moment will pass, so be sure to really explore the time you have. So simple yet so powerful. ​ I was about to turn 30 at this point in my life, about to get married, and had just been awakened by the medicine of the Jungle. Indeed I was about to enter the depth of my life, and so to receive this teaching at this precise moment was, and still is, remarkable. When I came home to New York, this lesson really sunk in, I only have this one time with the sun, this one lifetime as Nathan, and I best use this chance, this pinnacle of life to really take advantage of my time here on Earth. ​ I am someone who knows this lesson all too well, as 15 years ago I was diagnosed with cancer and have miraculously survived. And while my health still ails me at times, this ceremony really brought me back to what the cancer was teaching me, Nathan, if you live through this, what are you going to do while you have this time in the sun? And this is something I still meditate on. I thank Sergey so much for bringing me back to this teaching. He is just like the medicine, gentle, strong, loving, and with a light heart. An amazing guide and friend. I hope to get back to Calca one day and work with him again soon. ​ Thanks Buddy! I love you.
- Nathan
---
Sanne Burger - The Seven Gifts of Puma
---
When we leave, early in the morning, we are escorted by five dogs. Two of them are ours, the other three are street dogs. It's like walking with a pack of wolves. We feel safe, invigorated and proud. Jumping in a taxi to Calca we have to leave them behind. It doesn't matter. They can take care of themselves, they are free. ​ Sergey picks us up in Calca. He is exactly on time. We take a taxi that brings us to our spot at the river. Sergey can't walk far: he hurt his leg in a dream. Yes, in a dream. He woke up from a vague dream full of action and speed one night and couldn't walk the next day. Eventually he went to the hospital and the doctor said: 'You ripped a muscle. What did you do, did you fall from a mountain?' 'No', Sergey answered, 'I had a dream.' He's still limping, two weeks later. Russian limping shaman in Calca. ​ We walk the last few hundred meters to the same spot where we were last time: a lush and green area in a remote swing of the Urubamba river. The river is wild this time of year, at the end of the rainy season. Sergey has brought two bottles of medicine. One is rather mild, the other one is fresh and pretty strong. 'Usually the dark coloured juice is stronger than the light coloured one, but this time it's the other way around. This medicine keeps surprising me', he says, while setting up the altar: a shamanic sword, wooden figures of owl and Huachuma (San Pedro)cactus, condor feathers, the head, skin and claws of a puma, a head of an owl and claws of an eagle. These are a few of his totems. They all came to him when they were already dead, searching for healing. He lights a mapacho and blesses the altar by blowing smoke over it. ​ Stefanie and Michelle drink the mild medicine. They haven't done Huachuma that often and Sergey feels they need to go slow. Khalid and I drink the strong medicine. Sergey doesn't drink today. 'I need to process the accident', he says. 'But don't worry, I'll be here for you.' Already after half an hour all four of us feel the effect of the medicine. It's going fast today. The weather is amazing. White clouds, deep blue sky, a blazing sun and a cool breeze. We all disperse, doing our own thing. Michelle lays down and falls asleep, Stefanie looks like a fairy, sitting cross legged on a rock, Khalid starts moving a bit further up the slope and I take a walk up the mountain. There the medicine takes full effect. I start doing a bit of Qigong and feel how I connect to nature through the movements. I move with the trees, the river and the mountains. I feel the flow of the water, the wave and kindness of the trees and the immense power of the mountains, especially one, far away but straight in front of me. I raise up my arms, fists crossed, and take in its power. I feel a surge of energy through my body, it's fantastic, almost orgasmic. How much power can a human being embody? I can hear the voices of my ancestors say: 'A woman is not supposed to be that powerful.' I realize how ingrained that is in me, in all women. We have learned to hide our power, to act like dumb blondes, in order to perpetuate the illusion that men are more powerful, while in fact there is no difference in power, only in style. ​ After a while I walk back and sit down with Sergey and Khalid. Both Khalid and I are very excited about how intense the medicine is. He felt the same like me just before, but from the male side: how difficult it is for men as well to really embody their power. We agree that in reality there is no war of the sexes, there are no victims or offenders. Neither sex is better or worse, stronger or weaker. It's time we all embody both our power and our vulnerability and share it with each other. ​ 'I want to drink more medicine', I say to Sergey, jumping up. 'Wait a bit', he says. 'And when you've had your second cup, I want to do a little ritual with you.' 'Okay', I say and go down to the river to cool down. Stefanie is lying on her back on a stone a bit further up the path. She looks like a floating fairy. Michelle is sitting in the river, emerged in the water and by very deep feelings. They both look so beautiful. ​ After some time it's time. We sit around the altar and Sergey serves both me and Khalid a second cup. After I've drank Sergey summons me to lay down on my back in front of the altar and close my eyes. I do so, feeling a bit giggly. Then I feel how he puts the head of the puma on my chest. For a moment I can't breathe, it's that powerful. Then he put her claws on my hands, lights a mapacho and blows the smoke over me and Puma. She feels like the softest being that ever touched me, softer than my mother. She comes close, very close to me, in the gentlest way. She nuzzles me, nose to nose, as if she wants to get to know me. I sense the delicate softness of her fur and her being. I feel her paws sink into my hands. It's so soft and yet so powerful I again am overwhelmed by awe. Then it feels as if she dives in me. Her head disappears into my chest and there she is, everywhere. I'm embodied by Puma. It feels amazing. Little shocks of energy surge through my body and my muscles move, as to adapt to this powerful being in me. I'm not afraid, in fact I'm enjoying it with all my senses. This is amazing! I never knew it is actually possible to connect with a spirit animal and now it is happening for real. ​ Kindness ​ 'You are so soft and kind', I say. 'How is that possible? You are the embodiment of power. You're a killer!' Puma is not used to speak, but she communicates with me in a very clear, telepathic wave. She talks with feelings and I translate those feelings with my mind. 'You humans misunderstand power', she says. 'You misunderstand me. Kindness is one of the main assets of power. Without kindness there is no real power. Real power is the opposite of aggression. When you are really powerful you do not get provoked, you do not get angry. Nothing triggers you, you are beyond that. You are always in charge of your emotions and you never get carried away. No other has the power to let you lose control over your feelings or actions. When you are really powerful you understand everything is part of nature. Therefore everything and everyone deserves kindness, also yourself. Sometimes fighting and killing is appropriate and necessary, for example when you have to eat or when you have to protect your children… but otherwise you refrain. ​ Freedom ​ Yes, real power gives freedom. You don't need anything from anyone, you can take care of yourself. You know how to survive, you know how to live and you know how to act. You have the skills to all of that. You are appropriate. You are mature, you are strong and most of all: you are happy, because you are free and you are free, because you are happy.' ​ Sensuality ​ I get up very slowly. It takes at least 10 minutes to adjust to the Puma spirit in me. I feel like a new-born baby and look at my hands, my feet, my arms and legs in awe. Or actually she does. She was shot by farmers in the hills above Ollytatambo a few years ago, after having killed five of their bulls. Now she's happy to feel alive again, this time in a human body. It's also a new experience for her. We both feel as if we move for the first time. Her presence gives me a presence and grace I've never felt before. I move with a totally new awareness. Very slowly, aware of every step, of every move. I walk to the river and climb down the rocks. The water feels amazing. 'This is sensuality', she says. 'Walking, moving, touching, smelling. Power means to own your sensuality, to not be afraid of it, not be embarrassed by it, not hide it, but embody it every moment of your life, because life itself is sensuality. Sexuality is part of sensuality. It's not the other way around. Another thing that's often misunderstood by humans. ​ Responsibility ​ To take responsibility for your sensuality, that's what power is about', she conveys to me with her energy. I feel what she says more than that there are words involved. My mind is so used to words though. It's eager to find the right words to what she submits to me. It's a way to not forget it, to not lose it. Words are my anchor to remember this experience. For her it's as if she loses me a bit when I'm thinking too hard, as if I disappear into a fog. She's not used to it, as she's always in the present. She finds it entertaining but also a bit confusing, as she doesn't really understand its function. 'Responsibility means to be impeccable in everything you do. You are part of everything, hence you are responsible for everything. Being responsible means sharing your gifts with the world, sharing your experience and wisdom in a way that suits your spirit, your character, your being. It's not difficult, it's natural. It doesn't crave discipline or suffering, it's just allowing the flow of life to flow through you. There is no effort in it whatsoever.' ​ Fun ​ We walk up the river and she is having so much fun, walking on two legs. When we are out of sight I sink down on all four. I want to experience how it feels to walk like a puma. I'm again in awe about the sheer pleasure I feel, putting my paws on the grass, seeing through her eyes; seeing every detail, every shimmer, every colour, every insect around me, hearing all the sounds, smelling a thousand different scents out there. I lay down and let her breathe through me. She lets out a sigh, a soft growl, with every outbreath. It creates such a low rumble that the whole valley trembles with it. I can hear its resonance hundreds of meters further down. It's delightful, delicious and deeply sensual. It's fun! 'Remember that', she says. 'Real power incorporates fun. If you don't have fun you have given your power away, you are doing something wrong. When you see someone in a powerful position and he doesn't radiate fun, you know he's not really a powerful person.' ​ Solitariness ​ I'm lying in the grass, deeply enjoying this new sense of power, this new understanding of what power really means. It feels so easy, so natural and peaceful. Not at all what I imagined raw, pure power would feel like. I remember how many times I've felt totally disempowered in my life, weakened by circumstances, especially heartache. 'There you've misunderstood all your life as well', she says. 'You've always thought of yourself as incomplete when not in a relationship, but that's not true. You don't need a relationship. Power nor happiness are dependent on you being in a relationship.' This comes as a shock. It is true though. 'So do I have to be solitary now for the rest of my life?' I ask, a bit daunted. She smiles. Her smile makes me feel wonderful inside, as if everything in me lights up. 'No', she says. 'It's not either or. You can be in a relationship or not, but never ever make your happiness, power or freedom dependent on it. Solitariness is about the willingness to be alone, if you have to in order to walk your true path. So remember: if either one of these assets are not present, power is not complete, hence not real.' ​ It's late in the afternoon. The sun disappears behind the mountains. Quite sudden it gets chilly. I slowly walk down the hill, immensely enjoying every step. I realize that for the first time in my life I am really, fully at peace with being solitary. When we gather around the altar, everybody sunburned, smiling and shiny, we eat and share our experiences. There are grapes, bananas, watermelon, nuts, crackers, mango jam and peanut butter from Michael's farm. I dig into the watermelon, it's delicious. I say to Sergey: 'Are you aware of what you gave to me today?' 'Of course', he says. 'You were ready. She will be with you the rest of your life.' God, I certainly hope so. ​ - Sanne
---
Stefan Reitsma - San Pedro Journeys with Sergey Baranov
---
Hello there! ​ It's been a day now since my last (sixth) San Pedro ceremony at the sacred rock in Calca. I had travelled around Peru and Bolivia 3 years before, drawn to it by its ancient mysterious history and living shamanic traditions. Many of these interests I've been fueling from an early age with books from among others: Graham Hancock, Alan Watts, Aldous Huxley, Terence Mckenna, Alfred North Whitehead, Rupert Sheldrake, etc. Because of this whenever I travel, I tend to regularly check Graham Hancock's website. This includes an alternative news desk, regular articles and updates by Graham, and a section with articles from authors of the month. Among these articles I noticed I was reading a couple of articles from the same author, Sergey Baranov. I was enjoying reading them until finally scrolling down far enough to see that he was living in the Sacred Valley, and I was in Cusco. 3 years ago I had tried Huachuma twice, but in a somewhat dodgy condition, just with some friends. It had been a good, though for different reasons somewhat confusing experience. I wondered if good guidance would make a difference, and ended up sending him an email, which he replied to the day after. We agreed to meet soon, I bought his book which I finished within 2 days, and met each other a week later. ​ There is no Huachuma journey quite like the ones with Sergey. I was talking with one of the people I drank with after the ceremony and concluded that we've never met anyone who quite embodies their medicine the way Sergey does. And that's it, often overlooked by traditional shamans. Always bring yourself into the mix; respect tradition, but resist to be consumed by it. The show many shamans throw can be helpful for some, but is all too often a way to justify the price. For me, these masquerades can cause me to lose focus, and feel almost ashamed for the one performing it. Needless to say, it doesn't help my experience at all. Unnecessary showmanship doesn't add to character, and has a way of alienating the shaman from the participant. I've noticed that during Sergey's ceremonies tradition is kept to a minimum to increase actual comfort, there is plenty of room for laughter, yet focus and respect are present. That's the only way a healer may truly heal, as it includes all aspects of personality and is sincere. Humor is an important aspect of humanity which is often overlooked by spiritual folk, and I was glad there was a place for it in these ceremonies. Also, the very spirit of Huachuma has a sense of humor. ​ We wound up talking about Zen quite a bit, concluding that this (THIS!) is what people lock themselves away for in a cave for half a century. Maybe you are familiar with the Zen saying: ​ "Truth has nothing to do with words. Truth can be likened with a bright moon in the sky. Words, in this case, can be likened to a finger. The finger can point to the moons location. However, the finger is not the moon. To look at the moon, it is necessary to gaze beyond the finger, right?" ​ San Pedro will make you forget about the concept of a finger altogether. To try and form a view of the world constructed out of words, ideas and concepts seems ridiculous. What is left is a heightened sense of perception, watching the different gusts of wind move the grass, forming ingenious looking patterns. Simply sitting around and watching the clouds, twirling into the valley with an unbelievable grace. I tended to drift between a purely perspective state, and a dreamy state. The second may come with deep revelations and strange dreamlike stories. It may well make you laugh about the banality of it all, the overall simple, elegancy of nature. Creatures that make you jump up normally, seem awfully familiar. You'll find yourself saying goodbye to a spider while looking for yet another spot to drop down and sit quietly, doing nothing. The process of a day becomes an obvious reality, and lovely to behold, watching the story unfold. The hollow Zen poems are loaded with meaning. It is this state that allows for many different things, it is mostly up to you. ​ I, myself, will return here someday and continue my work with this sacred plant. For now I write this review for you, hopefully inspiring you to try this yourself. None of this might make sense yet, but believe me when I say this is worth a shot. This might well be one of the least confusing or (possibly) disturbing entheogens I have yet used, and I do have some previous experience. So, make up your mind! I will close with a line I wrote down, sitting by the river, while a rogue drop landed on the ink from my fine liner. ​ "Funny how we say; Beautiful day! And leave it at that, as if everything is said. The way the ink dissipates on the paper already outshines everything I just wrote. As it turns out, everything is crystal clear, even (especially?) without judging the day. The breeze is without description, quite special, yet nothing special." ​ Good luck and have fun! ​ - Stefan Reitsma
---
Sarah Elizabeth McCunn - My Pure and Playful Encounters with the Sacred Cactus
---
I came to hear about Sergey and his work only very recently. I had been passing time in the communal area of my hostel in Cusco when two fellow guests brought in their friend, Stefan. At some point in their conversation, I heard mention of San Pedro and my ears pricked up because I wanted very much to experience this plant. Stefan told me he'd drunk with Sergey very recently, and highly recommended the experience to me.
I have a long standing fascination and respect for plant hallucinogens having experienced a multitude of positive benefits from psilocybin and ayahuasca in my own life, and the lives of some of my friends and relatives. I credit these medicines with giving me the courage to leave my home and my job (at an age at which I'm already considered 'late to settle') in order to travel in a part of the world where, rather than being demonised, these medicines are revered for their unique and remarkable power to heal and nourish.
I'd had a very beneficial experience with Ayahuasca in Ecuador 2 years ago, drinking with a Quechuan family who'd been extremely humble and caring, and I'd made many positive changes to my life as a result of the days I spent with them. Upon returning South America 5 months ago, I knew I wanted to deepen my experience with plant medicine.
In the weeks prior to meeting Sergey, I partook in some further Ayahuasca ceremonies, but I found the showmanship and apparent ego radiating from those delivering the medicine to be a huge turn-off. Not only was it distracting and frankly cringe inducing, but I found the setting brought about an experience in me which was vastly more ego fueled than I'd previously encountered. I was busily probing round old, soggy, sorry narratives, drawing (in hindsight) ludicrous conclusions about the solutions to these 'problems'. Entering into the vulnerable space of a strong psychedelic experience whilst surrounded by umpteen 'second-comings of Christ' (brandishing one too many guitars) can lead one somewhat astray it seems. I attempted in the days after the ceremonies to 'decipher' the content of some of my more bizarre musings, but opted eventually to abandon the endeavour as I watched my own bullshit radar leap completely off-scale. I was eventually left feeling a touch embarrassed at the whole affair.
My conclusion from here was that the person administering the medicine MUST embody the spirit of the medicine, or the experience of the participant will likely be tarnished, skewed and will lack purity. Their conduct is absolutely an influence. In my experience with plant medicines thus far, I have felt humility to be one of their greatest messages. For this reason I struggle with 'shamans' or facilitators who use their positions in order to live out personal fantasies of what it means to be spiritual rather than allowing the medicines interaction with the individual to take centre stage.
Upon meeting Sergey for the first of my three ceremonies, I could see immediately that he was a different kettle of fish. I was just finishing reading his book when we met, so I already felt somewhat acquainted with him due to the honesty and humour with which he writes. Even in the short drive from the Plaza de Armas to his house, much laughter was shared and I could feel that a wonderful day lay ahead.
The experiences which unfolded in the Calca valley over the following week – amid trees of every shade of green, rivers, mountains, clouds and ancient fertility sites – I will always remember for their immensely powerful yet peaceful quality. Huachuma is a playful giant with a full hearted sense of humour. It welcomes you into its folds and makes you smile endlessly at the beauty and simplicity that surrounds us.
As soon as my encounter started to unfold, I saw very clearly that I could simply 'unhook' myself from the unhelpful narratives I'd been attempting to examine so fruitlessly during my previous ayahuasca experiences. My mind was the most tranquil it's ever been, and my being was immersed in the world around me, whose existence seemed to roar in all it's glory. I recalled Terence McKenna's description of plant entheogens having the ability to "open the floodgates of the reducing valve of consciousness and expose the individual to the full force of the howling Tao", and this, it seemed to me, was a perfect description of what I was undergoing.
Huachuma is not a plant which tricks you or confuses you; it's out in the daylight with nothing to hide, in all it's beauty and honesty. Misleading hallucinations are minimal; you simply have the privilege of being immersed in pure existence and seeing it minus the goggles of familiarity.
I had many chuckles to myself about the lengths we all go to to convince ourselves our lives are important and meaningful, because we cannot bring ourselves to believe that all the meaning we need is in pure existence. We constantly overlook what's under our noses in our search for "more" and create complicated narratives for ourselves; about who we are, the impact of our pasts on our presents, and what we should be striving to achieve before we pop our clogs. I spent hours over those days smiling from at the realisation we are so misguided in our conduct, how much we deny about ourselves, how much we turn our backs on our own nature and run around in a world of make believe trying desperately try to imbue with pseudo importance. I was smiling at the liberating quality of this realisation; because I now had a much stronger sense of the simplicity and attainability of happiness. So many of us set ourselves standards we can but fail meet, because they are standards set by generations of damaged people marching to the beat of a drum played by megalomaniacs.
If everyone had periodic access to simply drink Huachuma and lie under a tree for the day, society would be an unfathomably different place; the mechanisms which divide us, keep us in order, and distract us from the sheer the havoc we are collectively wreaking on ourselves and the world we are inextricably bound to would simply fall apart.
It has now been nearly 3 weeks since my last experience with Sergey and I feel profoundly peaceful, wearing a half smile on my face from day to day. I completely understand why Huachuma is considered a medicine of the heart, because my mind, which used to race to the point of exasperation at times, has slowed down to a contented plod, and my heart feels full and warm even in challenging situations or with difficult people. If like me you are looking for a spiritually nourishing experience but feel a certain wariness at navigating the tricky path of finding something wholly pure and down to earth, or at potentially having to deal with people who've developed messiah complexes, I cannot recommend enough that you go and drink Huachuma with Sergey in Calca. You will experience the pure, simple, joyous character of the medicine in the beauty of the valley, with minimal interference beyond what you either need or feel happy to engage in. You'll not be left deciphering or wondering what the heck happened, just with a sense you experienced something truly pure, honest and meaningful.
Two days ago, I read 'Wild Geese' by Mary Oliver for the first time, and the way it resonated with the feelings that arose during my recent experiences moved me very much, so I will leave you with these beautiful words: You do not have to be good. You do not have to walk on your knees
For a hundred miles through the desert, repenting.
You only have to let the soft animal of your body
love what it loves.
Tell me about your despair, yours, and I will tell you mine.
Meanwhile the world goes on.
Meanwhile the sun and the clear pebbles of the rain
are moving across the landscapes,
over the prairies and the deep trees,
the mountains and the rivers.
Meanwhile the wild geese, high in the clean blue air,
are heading home again.
Whoever you are, no matter how lonely,
the world offers itself to your imagination,
calls to you like the wild geese, harsh and exciting —
over and over announcing your place
in the family of things.
Thank you Sergey, I look forward to the day I return with my brother. ​ - Sarah
---
Ellie, Bulgaria - Heavenly experience! Thank you A++++++++
---
Where do I begin? I am back home and all I can think about is returning to the Huachuma Wasi. Not only is it in one of the most beautiful places on earth, but Sergey and his family are very possibly some of the most beautiful people on Earth too. What a combination! I have no doubt that Sergey was chosen for this work beyond space and time... From way before this physical life... Or very possibly, this is what he's done in many past lives. He is not a man, he is a Cactus. He is just awesome in every way and so is his beautiful family. 🌵😁 The house is cosy and feels so homely. I could live there full time. The huachuma cactus is everywhere not just in physical form, but in spirit too. I would recommend this place to everyone. The ceremonies are full on magic. Each starts in Sergey's incredibly beautiful maloka and continues at an outdoor power place, whether a beautiful spot in the mountain or an ancient sacred site... Sergey will surprise you, no doubt. I can't wait to be back!!! Thank you from the bottom of my heart 🙇‍♀‍❤‍
---
Claudinha Papilia, Holland - Finding back selfworth, trust and love
---
My stay at the Cactushouse with Sergey and his family has changed my direction in life completely. I didnt even know what i was looking for when i reached out for Sergeys help, but i knew i wasnt happy. I had no selfconfidence, i felt unworthy, unloved and very lonely. Already in my second ceremony Sergey and i discovered the biggest cause of my negative feelings; my unhealthy relationship patterns. Together we worked on the subject, he has been a great support in guiding me through the process.. The beauty is that i remember the proces to be the BEST month of my life! I let so many tears, but i remember laughing much more! I felt so ecstatic, so free, so much connection to nature and i made friendships at the Wasi who also made the process enjoyable and easygoing. After this experience i come back twice a year now to continue working with Sergey and Huachuma. This months are my favorite months of the year! This journey has brought me on the medicinepath that keeps showing me Magic excists! And life is so beautifull and i practice to live in Gratitude each day now. I cant express my experience and gratitude in words. Only in tears of pure love and happiness. Gracias gracias gracias
---
Karima Kaart, Holland - Feeling deep gratitude
---
I've had the privilege to go to a beautiful country and spend time in the cactus house with Sergey and his lovely family. I've got introduced to the shamanic way of healing..to me it was mind blowing, left me sometimes awe struck and had a fantastic journey exploring my mind, my emotions and the endless stretches of consciousness. Which I think I've only see 10% of it. Ofcourse healing is not only magic...I've been through the depths of my own darkness..the darkness of the world..the fears..the panic attacks..going deep..going beyond it..that was no joke. I've been integrating all of them.. embracing them as a part of who I am. Still an ongoing process. Sergey provides a safe space..works with tremendous dedication, is sincere and is a honest authentic human being..very trustworthy which is important when working through trauma's and healing them. I am not scared of the depths anymore and I am confident in integrating it back home. My gratitude is endless. Thank you Peru Thank you Huachuma Thank you Sergey 🌵
---
Mersudin Vildic, Bosnia - Out of darkness came marvellous light!
---
My experience at Huachuma Wasi is about describing the color yellow(light) to a blind born person. Sergey's medicine is a beacon of hope and love and I am in awe at the healing work that takes places here. I can't begin to tell how grateful I am for this experience of a lifetime. Thank you, brother!
---
Daniel David, U.S.A. - Authentic
---
We enjoyed our stay very much. Sergey is trust worthy and authentic -- he allows the medicine to meet you where you're at and allows you to connect with yourself and to nature. I left with a heart full of gratitude and a desire to be a better person.
---
Stephen Paterson , South Africa - Huachuma Healing
---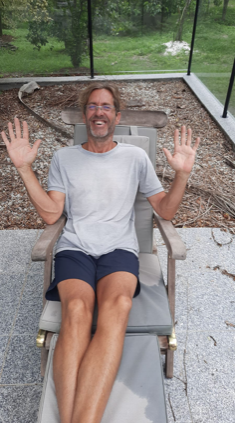 Staying at Huachuma Wasi with Sergey and his family was a life changing experience for me. My time with Sergey and his medicine took my understanding and healing to another level. A powerful and pragmatic Shaman who helped peel away unwanted layers of baggage in my life, and live more from the heart. Sacred plants in Sacred places in the space of a Shaman l km ike Sergey is a powerful combination for healing. I'm looking forward to returning soon. Home away from Home.
---
Svitlana Voronkova, Ukraine - Extraordinary experience
---
Stay at Huachuma Wasi is an illuminating, very likely a life-changing, if indeed not life-saving experience (as was the case for me). Sergey's personal path, over decade-long work with Huachuma and deep dedication to healing mean that you are in very safe and experienced hands and his way of working with the plant medicine is very deep, mind- and soul-expanding while allowing for space and a lot of personal exploration, while his welcoming family make you feel at home. I cannot recommend Sergey's retreat more.
---
Michael Guirgis, Australia - Huachuma Wasi - Recharge Your Soul
---
After many years of tireless searching, Huachuma Wasi has now become the launching pad of my spiritual evolution and the holy grail for my soul. Sergey Baranov, founder and facilitator at Huachuma Wasi, is a sincere and benevolent host of the ancient shamanistic tradition serving the sacred medicine in a sophisticated and nurturing manner. Looking forward to my next visit
---
Kristen Yates , U.S.A - Magical, Supportive, and Deeply Healing Experience
---
This was my first experience with the Huachuma medicine, which I have now learned is indescribably deep, healing, and magical. I have felt so safe and supported here with Sergey - he truly embodies the wisdom of the medicine, and each experience has supported me to go deeper into my healing process. This truly feels like the soul school I never had, and that every human should experience. I love the environment Sergey has created to journey with this medicine - a true family, home away from home, and portal to my True Self. I recommend staying for at least several ceremonies, as the medicine needs some time to know you and create its own unique way tailored to the individual's process! Needless to say, I am not done here :) Much love and gratitude to Sergey and the Huachuma Wasi family!
---
---